Elopement Photographer Paris – Jean-Baptiste Chauvin Photographer
GETTING MARRIED SOON ? ELOPEMENT PHOTOGRAPHER PARIS
Are you getting married and need to schedule a photo shoot in Paris? First of all, congratulations and sincere wishes of happiness for this beautiful commitment! As a wedding photographer based in Paris, every year I capture dozens of weddings, elopements, engagement sessions in France and the rest of the world.
In my opinion, the profession of wedding photographer is one of the most beautiful in the world. Being able to approach two beings who love each other with a deep, sincere and passionate love so often is priceless.
My approach revolves primarily around two pillars: the search for aesthetics and the present moment, while looking for a beautiful light and a beautiful frame to magnify your photos.
Having your picture taken isn't easy for everyone. My mission is to make you feel as comfortable and natural as possible. Through jokes, games, and mini-challenges, you instantly feel more at ease. As a result, the natural interaction between you and your loved one come across beautifully (your own tender gestures, your unique signs of affection, etc…).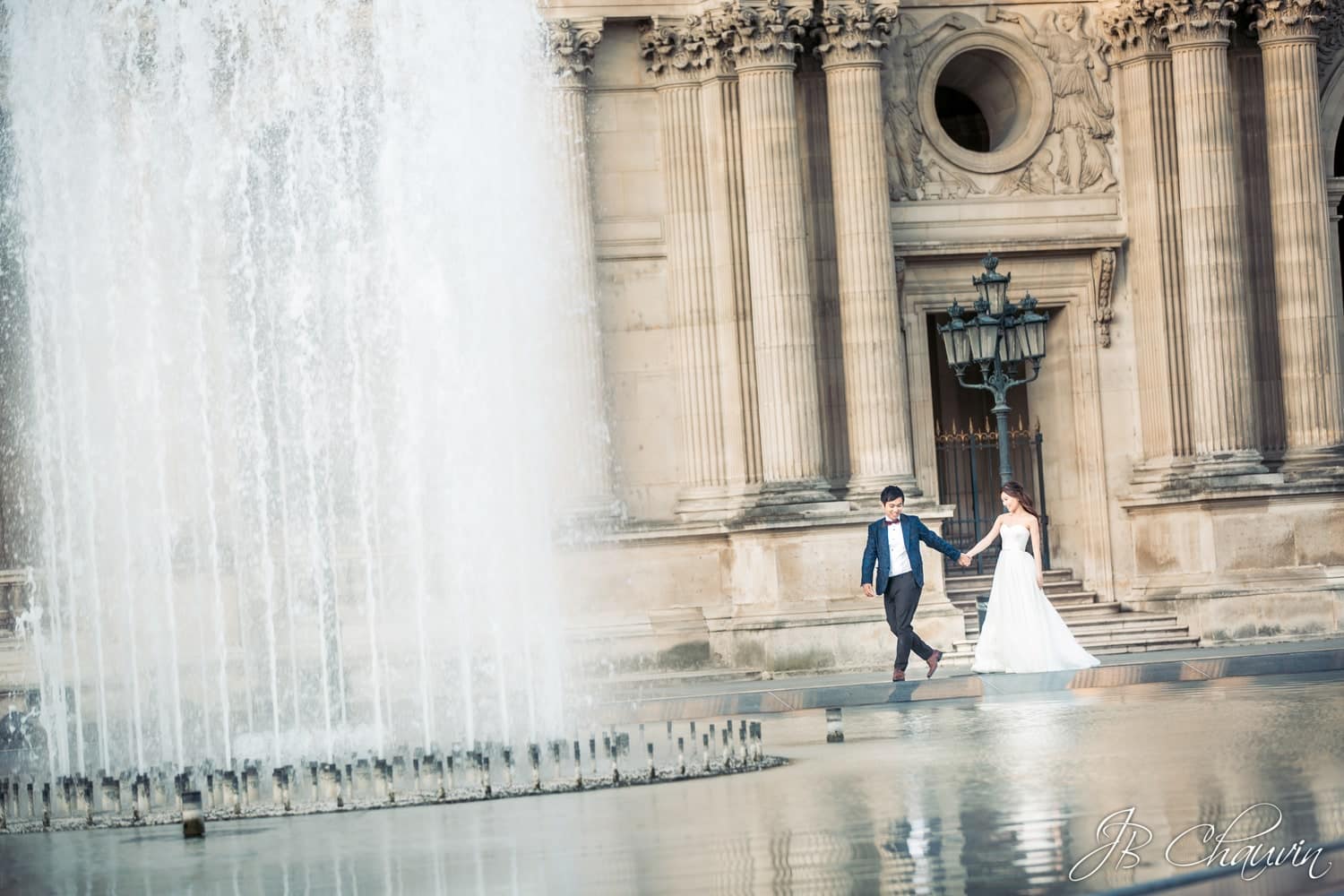 YOUR PHOTOS ARE IN GOOD HANDS – ELOPEMENT PHOTOGRAPHER PARIS
Securing your photos is one of my top priorities. I carry two cameras with me at every event. This prevents the risk of a possible technical issue and also keeps me from repeatedly changing the lenses. Additionally, it increases the flexibility of my work. This flexibility allows me to switch seamlessly between cameras for varied shots, angles and techniques. I am more focused on reporting and less on handling the equipment.
Editing is one of the most important steps in the creation of a perfect photo report. Each of your photos is individually and carefully retouched. My editing work ensures high quality photos and a photo report with consistent colors and lights. Retouching may also include removing unwelcome obstructions.
Shortly after your shoot, a private photo gallery is created on my website to deliver your photos. This platform will allow you to share, download and order prints.
As a licensed DGAC drone pilot, I add a heavenly dimension to your day using the latest drones in the market for your photo report
For the past several years, I have collaborated with the top international wedding photo labels, like Fearlessphotographer, ISPWP, Un Beau Jour, Mariages.net… and have enchanted couples with my work all over the world.

« Jean-Baptiste was great in suggesting how to get the best shots from our locations. He captured the best moments and the results were just astonishing! He has top of the line artistic taste and makes you feel very much at ease while capturing unique pictures without you even realizing. We are very happy with the results and would definitely recommend him to anyone looking for something different and non-cliché. Merci Jean-Baptiste! »
Raf V.